17.09.2018
SEO DAY 2018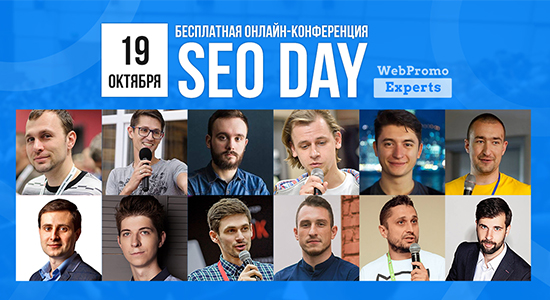 October 19, our friends The Internet Marketing Academy WebPromoExperts is holding a large free online conference on search engine promotion - WebPromoExperts SEO Day. & nbsp;
You will hear the reports of the most sought-after specialists of the industry, whose knowledge will help improve your results and save time. All you need is to register, connect and absorb new information, without departing from the screens of your gadgets.
Leading practices of Google, Ahrefs, Evo, TemplateMonster, SeoProfy, SE Ranking, LUN & Flatfy, CyberShark, WebPromo and others will share case studies, personal experiences and lots of useful information about the latest SEO trends, innovations and forecasts for the coming year.
You will learn from the reports:
The latest updates and updates from Google
How to get "powerful" links using guest posts;
How to become a successful SEO-automator and what skills are needed for this
How to promote an online store through effective internal optimization
How to make the best reference profile if you are a beginner
Topical SEO techniques for 2019 and much more.
The event is free online. Register to not miss!