27.08.2018
XXIII TOP MARKETING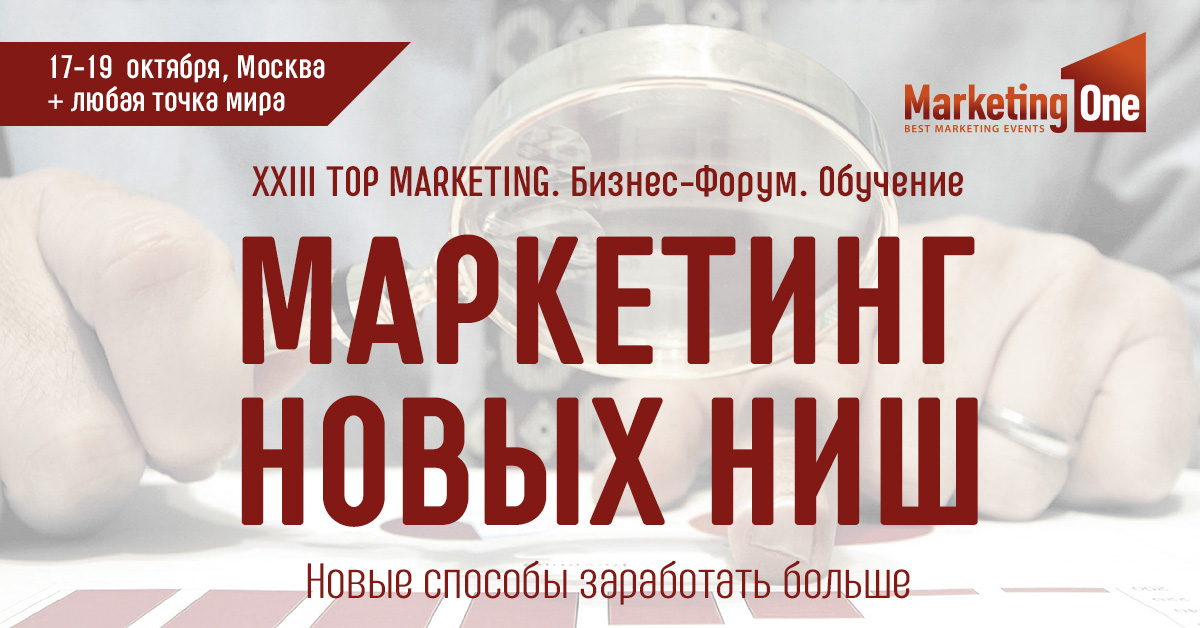 On October 17-19, XXIII Business Forum Marketing One - TOP Marketing Management for marketers of medium and large companies of b2b and b2c sectors will be held in Moscow.
It is important for all marketers to make a profit, which is why the main task is market segmentation. But to do this in the current economic conditions is not so simple that it is associated with rapid changes. At the Forum, you'll learn how to maximize profits and minimize errors.
For whom:
large, medium and small businesses;
existing brands and new directions;
B2B and B2C;
manufacturers and retailers, service providers and service companies;
Program:
Segmentation and working with competitors (Generation theory tools and other psychographic approaches).
The Generation Theory offers marketers the tools they need based on a deep understanding of the values ​​of their audience. Many know its basics, but how to apply them to solve specific marketing problems? What new discoveries have taken place?
What are they, grown up igrets and zetas now and what they will be in 5-10 years?
Analysis of marketing tasks
The toolkit of a modern marketer is constantly updated, which inevitably leads to the automation of processes.
How quickly and inexpensively to conduct an effective marketing research? How to test hypotheses promptly? How do I start a new product and segment it correctly?
The forum is waiting for you:
marketing directors of brand companies with experience of more than 15 years, as well as marketers and brand managers of b2c and b2b markets
Interesting trends and cases and round tables
company session TOP Marketing Networking
expert advice on your personal tasks
By participating in the Forum, you will be able to:
supplement existing knowledge on finding niches with modern techniques and tools
find new niches at the junction of three criteria: attainability, profitability, need
automate the marketing process
build your activities according to the principles of efficiency and low cost
More details here here .