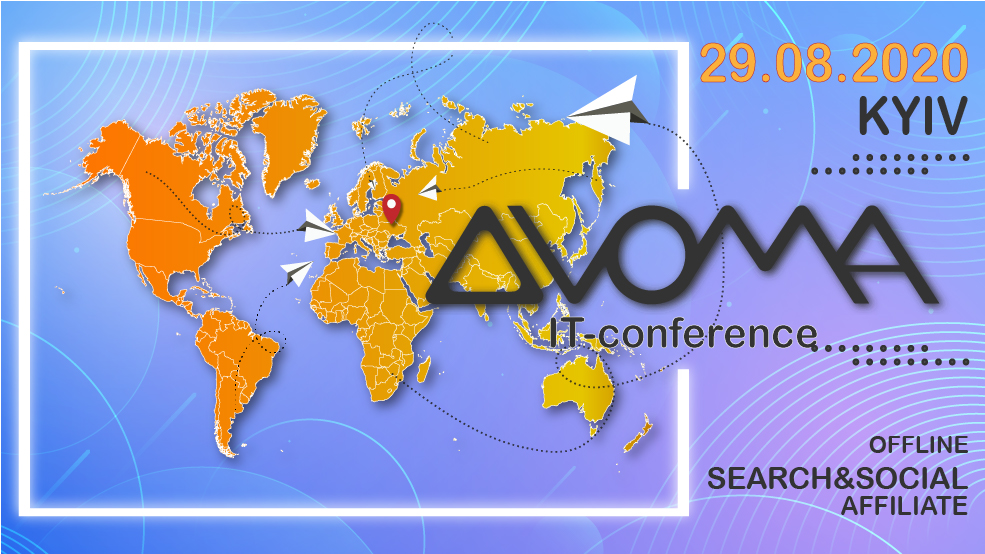 IT-conference DVOMA
On August 29, 2020, Kiev will host the international IT-conference DVOMA dedicated to the most relevant topics of Internet marketing. You will find 2 streams, 1000+ participants and a large-scale exhibition.
Presentations will be made by top speakers, experts in the field of SEO, CPA, SMM and PPC. For the convenience of visitors, the conference will be divided into 2 streams - Affiliate, Search & Social. The event will take place in the OASIS location, the Ultramarine, st. Lipkovsky, 1A.
In addition to useful cases from professionals, guests will have the opportunity to chat with speakers in an informal setting, as well as make useful business acquaintances - active networking is guaranteed! Also, you will find a coffee break and buns for even more pleasant communication!
At the end of the reports, you will find a round table with speakers, where everyone can ask a question and get an expert answer. As practice shows, at the round table you can learn a lot of interesting and unexpected things! And how could it be otherwise, because DVOMA will have the best of the best.
!!! This year's novelty will be a super event - DVOMA AWARDS! This have not happened before. DVOMA AWARDS - awarding prizes in the field of CPA, website promotion and monetization. Nobody will be left without attention and gifts! Do not miss, it will be bright!
You can register for the DVOMA conference and buy tickets on the official website. There you will find a more detailed description of the event, an accurate schedule of reports and much more. Hurry to get a ticket, because the closer to the event, the higher the price. Also, information about this can be found on the website of the organizer SEO.UA.
Come, because the DVOMA conference will not take place without you!