21.08.2018
FORUM ONE 2018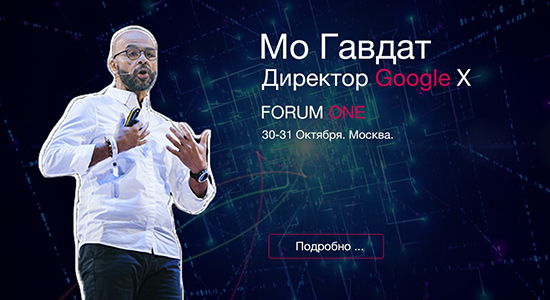 We invite you on October 30 - 31, 2018 at Forum One in CROCUS EXPO, Moscow Pavilion 1.
There are excellent speakers here - more than 70 founders and top-managers of global and Russian companies.
After our promotional code there is an excellent discount.
In order to receive a 30% discount, enter the promotional code "forum30" when paying for any ticket.
Speakers - only steep businessmen and tops, in general, participate:
Mo Gavdat is an Entrepreneur and Director for the development of a secret division of Google X.
Zev Sigle - Co-founder of Starbucks. Serial entrepreneur.
Dirk Alborne - Founder and CEO of Hyperloop, builds the transport of the future.
Kevin Gaskell - Thanks to his leadership of BMW, Porsche and Lamborghini have reached a new level. Ever conquered Everest.
Jenne Lim is CEO of Delivering Happiness, co-author of "Delivering Happiness", a partner and consultant to Zappos, sold to Amazon for $ 1 billion.
Steve Cadigan is the Vice President of LinkedIn, who started his career in this company when the staff numbered 400 people and hired more than 7,000 employees. A well-known consultant of Silicon Valley for talent management.
More detailed information on the timing and the scheme of travel are listed on the website.
Register now: link
And see you at the forum!